What's New
Happy Birthday to my dearest friend! I hope that your birthday surrounds you with all of the love from your dear ones. Love and hugs from me.
Helen...I wish you a very Happy Birthday...I especially enjoyed our visit during the 55th...Thank You for the kind words after the party...
Frank was a good kid.
I saw him once after graduation, and that was at the 20th Class Reunion.
It was good to see that he was a good man, too. :-)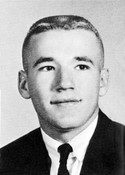 Happy Birthday old friend....I sure enjoyed seeing you at the 55th reunion...you have not changed since HS...
Posted on: May 19, 2019 at 8:48 AM
Happy Birthday Jody!!
Hey Rod...Happy Birthday...This year I am planning on going to the Chief Joseph...The Stanley Stomp and continue on to Red Lodge, Montana on the rig...wanta come ?